I hit it off right away with the future husband and wife. Laurie and Anthony have a wonderful bond and their joie de vivre is contagious ! 4 years and a few months after they started dating, they decided it was time to tie the knot. They celebrated their love with a wedding at L'Espace de l'Hers in Chateauneuf-du-Pape.
On the morning of the big day, I met Anthony at their house in Orange. He turned on the music and put on his Vogue suit while him and his friends were get ready and goofing around. No stress!
I then left for Châteauneuf du Pape, where the wedding reception was going to be held at the gorgeous Espace de l'Hers venue. The estate, located on one of the Châteauneuf du Pape vineyards, is a true gem. I met with Laurie in her room, as she was ready to put on her Les Mariées de Provence wedding dress, wearing a beautiful bridal chignon made by hairdresser Eric Léturgie's team in Orange and a perfect makeup by Mesdames L'institut in Caderousse. She even had gotten a tan at Tahiti Sun before her big day!
The bride had thought of every little detail: eyelash extensions and special manicure by Belle en gel, mini champagne bottles bubbles for their ceremony exit, custom made shoes by Magic Feet, and that was just the beginning!
Anthony was patiently waiting for his love in the courtyard, excited to discover her as she was putting on her jewelry and perfume… finally, the first look magic happened! The photos speak for themselves…
Then off to the théâtre municipal of Orange we were. This 19th century stunning theatre is were summer weddings are performed in Orange.
After getting officially married, the bride and groom and all their guests drove back to Espace de l'Hers for the outdoor ceremony held in the courtyard, under the big beautiful tree. The talented Gwenaëlle took care of the floral arrangements, as well as the ceremony celebration as she's also a ceremony officiant!
I love symbolic ceremonies as they give me so much freedom as a photographer, while also being completely personalized. Laurie and Anthony's loved ones' speeches sure were a big hit: there were laughter and happy tears all over the audience.
The vows and rings exchange was very important for the couple, as the wedding rings they had custom made by Créaly had been made from Laurie's own grandmother's jewelry.
The courtyard then transformed into a mingling scene, cocktail hour and dinner being catered by Le Ramier traiteur. After family portraits, the newlyweds raised their glasses and thanked their friends for their support and help during the wedding preparation, as well as their guests for joining them in celebrating this big milestone.
We then took off for some time to take bride and groom photos at the closeby castle of Châteauneuf du Pape. But the wind being annoying, we didn't stay long. Long enough though to take some great portraits with the ruins of the castle. On the way back, we stopped for more photos in the vines that made Châteauneuf du Pape's worldwide fame.
Having all the locations be really close is definitely a must for the bride and groom who were able to really enjoy their guests' company. I didn't cover the dinner part of the wedding day, but I'm sure the party went on until dawn, thanks to DJ Berny!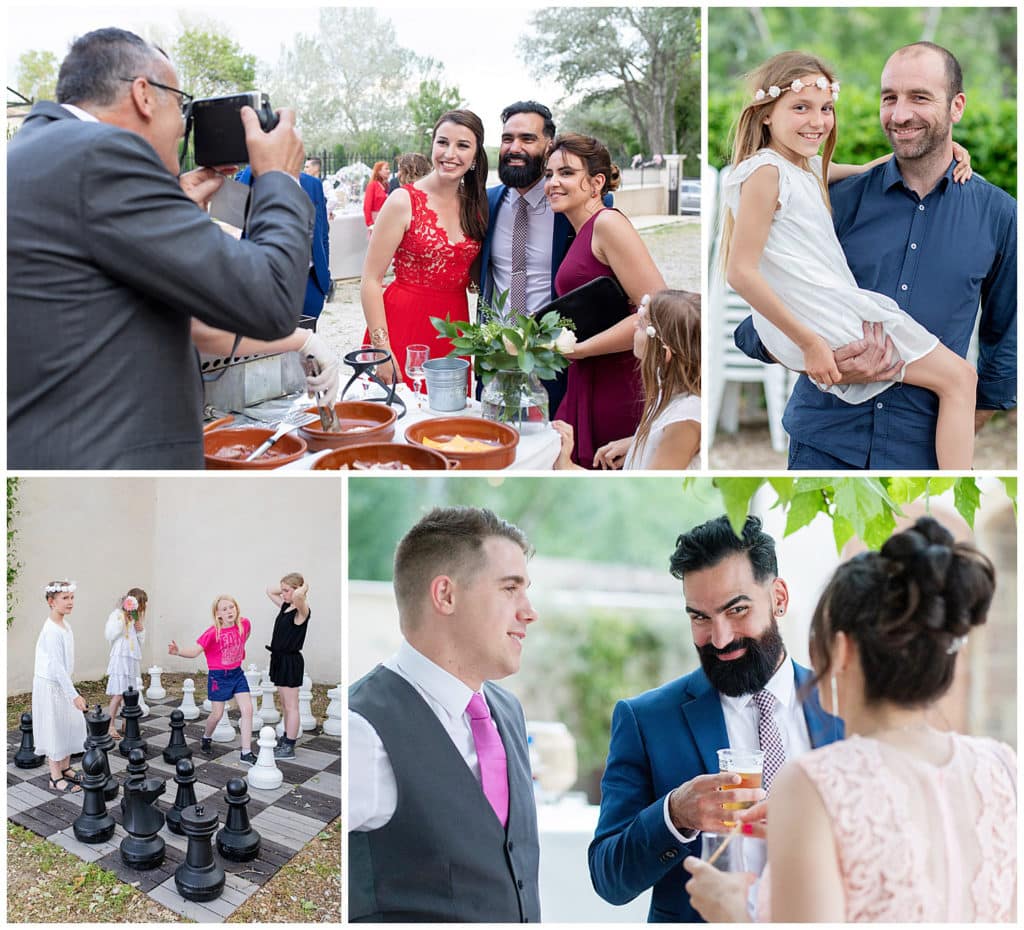 I had a real blast capturing Laurie and Anthony's wedding under the sun of Provence. The bride, groom and all their loved ones were so kind and friendly, it made me enjoy this day even more. Merci and congratulations!!
Huge thanks to all the wonderful vendors of this wedding!
Hair: Eric Léturgie
Makeup: Mesdames L'institut
Tan: Tahiti Sun
Manicure: Belle en gel
Bride's dress: Les Mariées de Provence
Bride's shoes: Magic Feet
Groom's suit: Vogue
Flowers: Gwenaëlle Wedding
Wedding venue: L'Espace de l'Hers
Officiant: Gwenaëlle
Caterer: Le Ramier traiteur
Music: DJ Berny