To make your South of France getaway unforgettable, why not capture your memories with professional photos? I've selected some dreamy locations in Provence for your photo session…
Are you dreaming of the cicadas song, the lavender scent, the warm sun on your skin, a glass of Châteauneuf-du-Pape wine in your hand and some South of France tasty food in your mouth? Well, Provence is your paradise!
It is unsurprising that France has been named the World's most popular holiday destination. It offers lots of diverse landscapes and artistic treasures to discover. There are so many wonders and activities for all ages in this picturesque area of Southeastern France. There's no doubt you'll enjoy your time in Provence. Whether visiting on a family vacation, eloping to get married in the heart of Provence, celebrating your honeymoon, your engagement, an anniversary, or simply wanting to experience the French way of life, you will surely get back home with fond memories to look back upon forever.
1. In the lavender fields of Sault, Luberon and Valensole
From mid-June to late July, you can spot lavender growing in vast purple fields across the length of Provence. The most famous locations for lavender fields are the road of lavender of Sault and the Plateau de Valensole. Named from the Latin vallis solis, "sun valley", in Valensole, the sun shines for 300 days a year over a surface of 800 squared kilometers, offering Provence lavender the best conditions to bloom.
An elopement or vow renewal ceremony, just like a simple stroll in the lavender fields, is a unique opportunity to soak in the magic of the lavender blooming while capturing amazing photos that will make your friends jealous!
Just aside the large lavender fields, you'll find many lavender distilleries, run by generations of Provence families, such as Ho! Bouquet de Lavande. See how they turn the dry flowers into essential oil and shop a range of lavender based products. From the classic soaps and home fragrances to lavender honey and ice-cream. Also make sure to stop by the Lavender Museum to find out everything you need to know about Provence's number one export.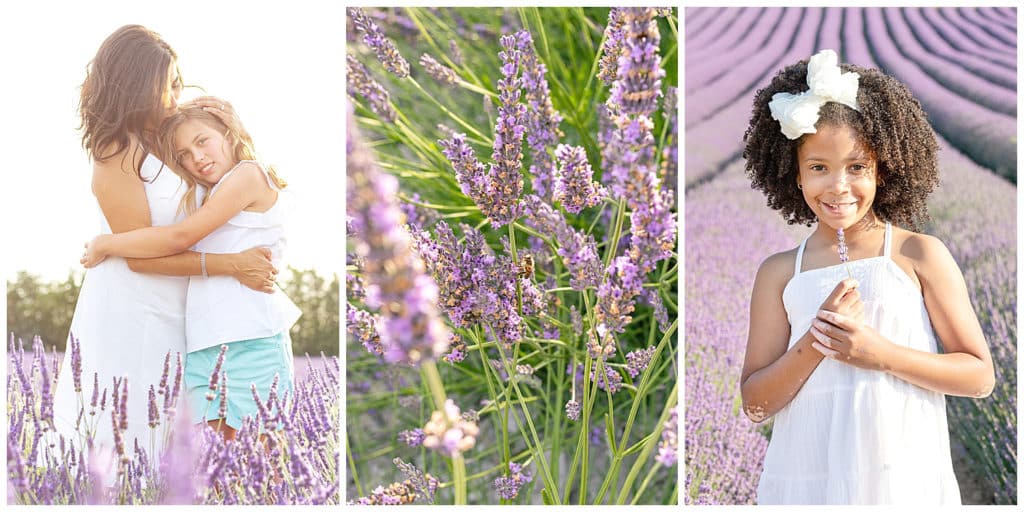 2. Gordes
Considered by many to be one of France's most beautiful villages, Gordes is a remote delight amid the rugged landscapes of the Luberon Regional Nature Park. With its cobbled streets and yellow stone houses, the mountaintop village culminates in the majestic 16th-century château.
It's a wonder at every street corner and a pleasure to photograph early in the morning. Tourists are still asleep or enjoying their petit déjeuner before strolling the narrow streets of the famous Provence village. The Golden Hour is as gorgeous if not more, with the soft end of day light covering the village.
3. Lourmarin
The idyllic village of Lourmarin, built on the remains of a Roman city, also features a grand Renaissance château.
A photo session in Lourmarin is always a delight, strolling the little streets between small shops and traditional cafés and bistros.
4. Roussillon
Along with Gordes, Roussillon is the most popular destination for visitors in the Luberon area of Provence. It sits at the top of a cliff over the World's largest red ochre vein.
The town buildings carry this beautiful warm color and a number of galleries offer an impressive art collection to discover. A wonder to photograph.
5. At home
From the verdant vineyards along the River Rhône to the carpet of lavender fields in the foothills of majestic Mont Ventoux, Provence is a spectacular showcase of natural beauty. If you're looking at experiencing the local lifestyle, renting a villa will make for unforgettable holidays. Why not make the best of it and capture your memories in the very place where they'll be happening?
In the garden surrounded by olive trees and lavender bushes, or by the swimming pool where kids can have fun and cool off… You'll be able to easily change outfits during your photo session and create a variety of looks.
Penelope C.
As part of our family celebration in Provence, we booked a photo shoot with Marie. She is fluent in English, easy to work with, the photos were delivered promptly and most importantly, they were beautiful! This makes the best souvenir of our trip, the images that will carry our memories always! Highly recommended.
Penelope C.
6. Avignon
Avignon is the region's cultural hub and a true gem. Having once been the centre of the Christian religion, it overflows with stunning churches and is home to the gigantic Palais des Papes (Palace of the Popes). This architectural masterpiece is the largest medieval gothic palace in the World.
Its famous medieval bridge, Pont Saint-Bénézet, which has been classified as a UNESCO World Heritage Site, was immortalised in the song 'Sur le Pont d'Avignon'. The Avignon theatre festival, each year in July, is internationally renowned.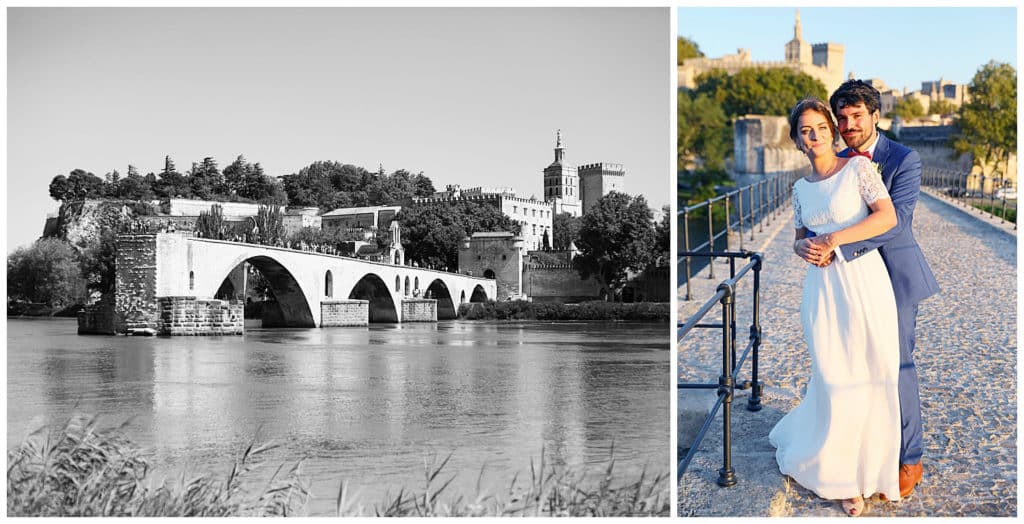 7. Châteauneuf-du-Pape
Châteauneuf-du-Pape lies between Avignon and Orange and is, of course, most famous for the wine it produces, but the village itself is also worth a trip, with its pretty medieval lanes and ruined castle.
Originally called Castrum Novum, the Popes moved to Avignon in the 14th century, and built the castle of Châteauneuf which became their summer residence throughout that century. Unfortunately, the castle was destroyed in the 16th century during the Wars of Religion, and again in World War II, but the ruins make a wonderful location for a Provence photo session.
The unique conditions in which the grapes grow are largely responsible for the quality of the World-renowned wine. The patch of land on which the vines are grown is fairly stony. During the day, the stones heat up from the sunshine, then slowly release their heat during the night, so the vines never get too cold. There are many wine producers in the area who welcome visitors for tastings and tours.
8. In the poppies, wheat or sunflower fields
There is a reason why people from all over the world flock to Provence during the summertime… In addition to all the reasons mentioned above, Provence signature flowers are in bloom during the summer months. A field full of red poppies is the sign of Summer starting in Provence.
First come the poppies (May), then the lavender (from mid-June to late July), followed by sunflowers (July/August). Wheat fields also make a wonderful spot for warm toned photos!
These fields are all privately owned and will be harvested, so be respectful if you visit them. Don't pick the flowers or trample them.
9. Les Baux de Provence and Saint-Rémy-de-Provence
If you are looking for the authentic postcard image of Provence, look no further than the Alpilles mountain range! The area holds some of Provence's most famous tourist sites, such as the Roman ruins of Glanum, the medieval village of Les Baux de Provence and the sophisticated village of Saint-Rémy-de-Provence, surrounded by a sun-kissed landscape of olive groves.
Saint-Rémy-de-Provence is a must-see for art and history lovers for its medieval walls, ornate fountains and one of the oldest arcs de triomphe in the country. Van Gogh produced some of his most celebrated works here such as The Starry Night (1889) and his The Wheat Field series (1889–1890).
Les Baux de Provence sits on a rocky spur built on the hillside. It's name comes from bauxite (a kind of aluminium ore), which was discovered here. The remarkable panoramic views make an amazing location for a photo session as much as the village itself.
10. Anywhere in Provence!
There is no dearth of picturesque locations for a photo session in Provence. It's like a gourmet platter of photogenic sceneries!
Additional wonderful spots for photography include: Grignan, Eygalières, Le Pont du Gard, Uzès, Montpellier, Camargue, Aix en Provence, Sainte-Victoire mountain, Fontaine de Vaucluse, L'Isle-sur-la-Sorgue, Vaison la Romaine, Mont-Ventoux, Lacoste, Ménerbes, Bonnieux, Ansouis, Cucuron, Gorges du Verdon, Gréoux-les-Bains, Cassis and Calanques of Marseille...
I can't wait to know all your wishes for your Provence photo session! Let me know about your project here. In addition to advising you on the most perfect location for your Provence photo session, I'll give you all my tips on what to wear on your photo session and my prefered vendors to make this moment extra special: makeup artist, florist, ceremony officiant, vintage or luxury car chauffeur...
Anna K.
Hello, Marie!
Thank you so much, pictures are truly wonderfull!
That is great present for our wedding.
We really enjoyed staying in Provence and meeting you, guys 🙂
Hope to see you in Moscow !
Have a good week !;)
Anna K.