Jerry reached out to me as he was planning a surprise proposal for his longtime girlfriend, Malaika, during their trip to France. The couple from Seattle had been dating for 6 years and was ready to take their relationship to the next level. Jerry, as a true gentleman, chose to surprise his lady by proposing to her in the City of Love, Paris, in front of the Eiffel Tower, to make this moment even more unforgettable and magical!
On D-day, as the two young lovers approached the designated spot, I could see Jerry's nervousness and the smile on Malaika's face discovering the breathtaking view from the top of the Trocadero square, unsuspecting. After a quick eye contact with Jerry confirming all was good, he took Malaika's hands in is, looked her in the eyes, and declared his love to her. She was in shock! He then took the ring box out of his pocket, got down on one knee and opened the box revealing a beautiful engagement ring. I'm so happy with how the pictures turned out! So much emotion for me as well to witness life changing moments like this one…
After Jerry put the ring on her finger, he turned to me and that's when she had the second surprise: "oh my God, there's a photographer!"
Trocadero being a very popular vantage point on the Eiffel Tower, it's easy for me to blend in with the tourists by pretending I'm shooting the Iron lady, when I'm, in fact, shooting the couple about to become fiancés!
The emotion hit Malaika and I gave the pair some time to take in that special moment. Then we carried on with some additional images with the beautiful view of the monument.
We then walked down the famous steps, stopped there for a few shots, as well as in the Trocadero gardens for some pictures with the colorful flowers — perfectly coordinated with her dress! — and the carrousel.
We headed to the Alexander III bridge for the last part of our photo session. That magnificent work of art never ceases to amaze me…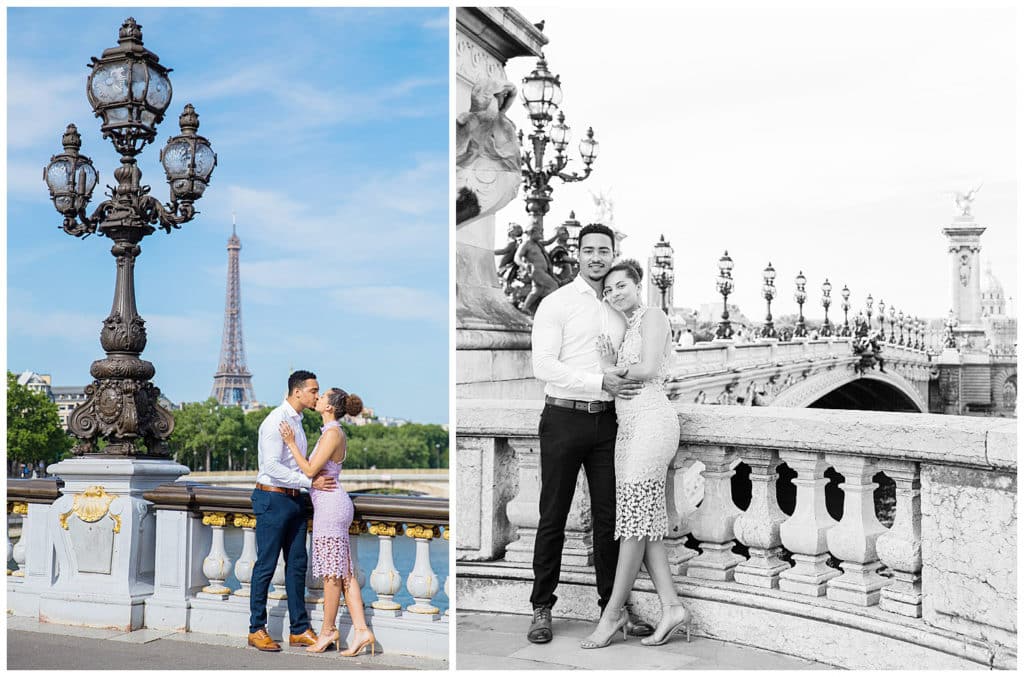 It was really fun to be Jerry and Malaika's engagement photographer, as always I'm incredibly grateful to capture that important step in my couple's love stories!
Malaika M.
My boyfriend and I got engaged in Paris and Marie took amazing photos! Our family and friends were so excited that they could share the beautiful moment by viewing the pictures. I love that she gave us black & white as well as color photos. She is such a nice person and we would definitely book her again!
Malaika M.