"Rainy wedding, happy wedding"? Well, having rain on your wedding day sure wasn't your perfect scenario. Unfortunately, the weather can be unpredictable and no one can control it… But don't panic! Here are 5 tips to get you prepared in case it does rain on your wedding day, so that you are ready to handle it without fear.
Have a solid plan B
Some months are known for being more rainy, or risky to get married. But the truth is: it's impossible to know in advance if it will rain or not on your big day. That's why having a solid plan B is the best way to avoid any trouble!
The most critical moments are your outdoor ceremony and cocktail hour, if celebrated in your venue garden. When looking for a wedding venue, ask all of them what the options are in case of rain. Some have a protected space on-site, some offer an extra room where you could relocate. Those might be included or not in the venue cost, so make sure to include that in your wedding budget.
Another idea: renting a tent to cover the cocktail area. The venue manager might even be able to refer you to a rental company they've worked with before. There's nothing worse than being stuck in a small reception room with no room to roam around as it's pouring outside, so make sure to have a solid plan B.
Keep an eye on the forecast
15 days before your wedding, you should have a basic forecast for the day, but it's not very reliable. A week before, things are starting to get more believable. Without checking the forecast like crazy everyday, do regular checks and look at various reliable sources.
Get in touch with your vendors (your wedding venue, caterer, photographer, videographer, decor provider, musicians…) to ask what they have in mind and how they plan on handling rain. They should have protection for their own gear and have experience that could help.
If your wedding day is overcast, it's actually a good thing! It's the best exposure you could ask for to get beautiful, even lit pictures!
Don't get depressed if you wake up to a downpour the morning of your wedding day as the situation may change several times during the day. If the forecast calls for rain later in the day, try to move your schedule around a bit to start getting ready earlier and allow some time for a lovely rain-free first look and some bride and groom portraits before the ceremony.
The weather might get better throughout the day or you could get a break from the rain at some point, so do make good use of those moments to get some groups or formal photos for example.
Protect yourselves
It's obvious: when it rains, you protect yourself! But your everyday umbrella won't be the most camera friendly one.
Get a dozen of clear umbrellas or ones wearing your wedding colors (that'll brighten the mood for sure!) so you both and your wedding party can be protected in style. Remember you'll be photographed all day 🙂
Also make sure to use natural protections for photos especially, such as a nice archway, some thick trees or even a beautiful room inside your wedding venue, and don't be afraid to get under the rain for a few minutes: you won't melt!
But make sure your makeup is waterproof and keep a little pouch with your essentials so you can touch it up, as well as your hairstyle.
You can also put together a "survival kit" with towels, blankets, tissues and some flat shoes… most of the time, no one can see your beautiful heels, so it'll be your little secret that you're wearing sneakers under your gown, or even rain boots!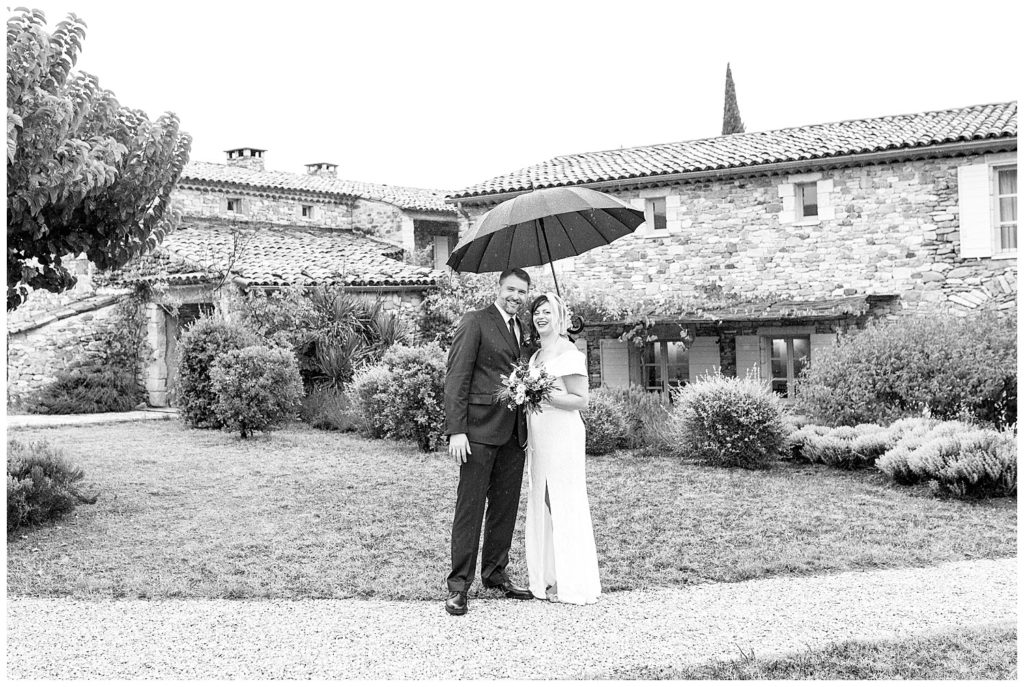 Prepare mentally
When you're fantasizing about your dream wedding, the last thing you wish for is rain… but when it shows up last minute, there's nothing you can do but accept it. Try to take it with a positive mindset, even though you'll surely be upset at first. Some water shouldn't keep you from enjoying one of the most important days of your life, and there are much worse things in life, so don't let it weigh you down for the whole celebration.
Sénèque said it well: "Life is not about waiting for the storm to pass, it's about learning how to dance in the rain."
Trust your vendors (especially your photographer) to handle the weather conditions and make sure you smile and enjoy your big day!
Go for a "day after" portrait session
Of course, your planned bride and groom portraits might not be doable if it rains, but wait a little as the rain could stop at some point… It's happened to me: pouring rain during cocktail hour, and suddenly, the rain stopped, the sun came out just in time for sunset and we got some gorgeous portraits! But if the sky stays grey all day until nighttime, there's another option.
Ask your photographer if they would do a "day after" portrait session. That's what I offer my couples in that case, at a reduced cost. That way we can get the beautiful photos we had planned for at a later date and even go to a completely different location if you're up for it!
If you truly want your portraits to be done at your wedding venue for continuity, or because you've fallen in love with the place, just ask the manager. They should agree for you to return with your photographer on a week day.
So, after having read those tips, are you still scared about the rain to invite itself on your wedding day? I bet you're feeling some relief.
Of course, a rainy wedding day is not ideal but it shouldn't ruin your celebration. On the contrary, every rainy wedding I've shot had a warm feeling to it!
I hope you'll be able to handle rain on your wedding day without stress thanks to these tips. If you have any questions, feel free to reach out. I wish you a happy wedding!