You've been dreaming about this day your whole life…
Your one and only has finally popped the question and you've celebrated your engagement with your friends and family… it's happening: you're getting married! Whether you've hired a wedding planner or not, you'll be the ones to choose the vendors that will accompany you on your destination wedding. One of the most important vendors you'll have to choose is your photographer, or team of photographers if you're excepting many guests.
If you're reading this, you're probably wondering how to make such a delicate and highly important decision. After all, this person will be in charge of capturing all the memories of the most important day of your lives!
As a professional photographer, I have shot dozens of weddings over the past 10 years. I'm going to share with you all the questions you should ask yourselves and what you should ask your photographer to make sure you are making the right choice.
1. Are you in love with their photographic style?
To me, there are as many styles as there are photographers. Each person has their own way to capture a wedding. Nevertheless, you can easily notice things that you like and things you don't. Some people will be into very bright and airy photos, others, on the contrary, will love a moody, darker style. Some will want their photographer to pose them a lot while others will want spontaneous shots. Maybe you'll want a realistic and authentic approach that is photojournalism…
In order to define the style you want for your wedding, try using Pinterest! This virtual pin board will help you visualize and save all your favorite images, giving you a general vision of what you want for your own destination wedding. You can also explore instagram and save the pictures you love.
2. Do you have chemistry?
Your photographer is the person you're going to spend time with the most on your wedding day! Their mission will include closely following you around to make sure their don't miss anything on your big day. It is essential that you feel comfortable with this person and the presence of the camera. For shy people, it can be daunting to spend an entire day being the center of attention and to be photographed all day long by a stranger.
I share a lot about my story and my personnality on my website because I love to connect with people. By spending time with your photographer and getting to know them, you'll develop a friendship that goes way beyond the usual vendor-client relationship and you'll be able to relax and enjoy your day to the fullest, creating wonderful images together. The same goes for your family and friends, who will loosen up and be themselves in front of the camera. The result: spontaneous shots with real emotions and a joyful day for all!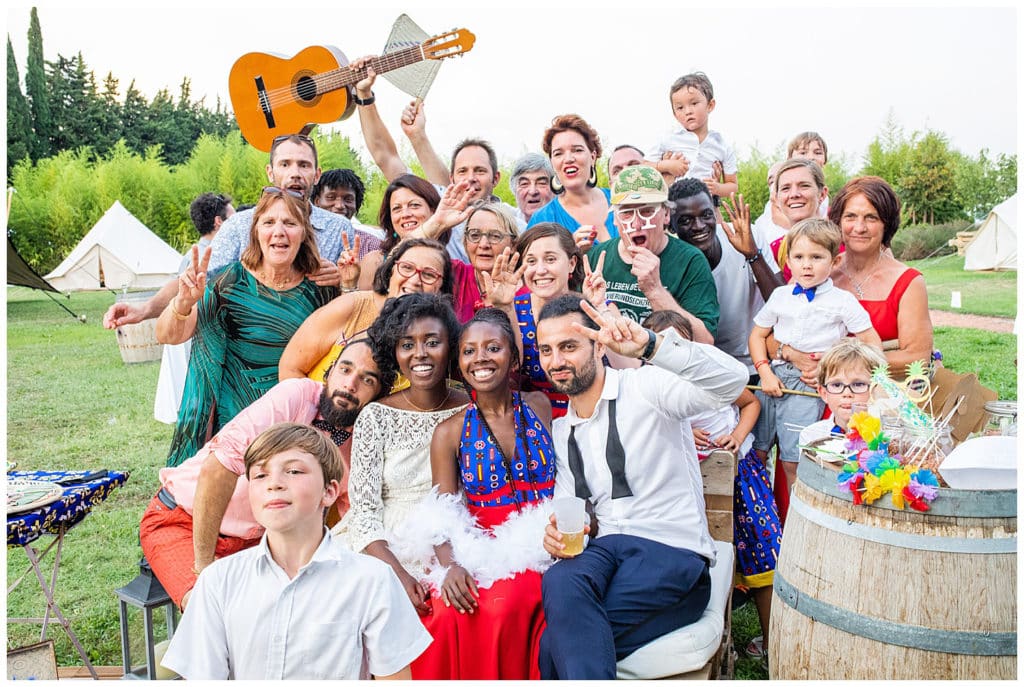 3. How experienced are they?
It seems obvious, but good commercial skills can make you forget that photographing a wedding is a difficult task. I think it's one of the thoughest photography fields, as it requires so many skills: foresee and plan ahead as you never know what can happen, react quickly, be experimented enough to know where to stand and use the right settings to to get the best shot, sensitivity to truly appreciate and capture this beautiful moment, discretion not to disturb the ceremony, but great social skills to capture real emotions… There are few diplomas in this field so many wedding photographers are self-taught. To make sure a photographer is experienced enough, you can also check what past clients thought of them by reading reviews.
Also note how many weddings they show when you look through their portfolio. The more, the better! In addition to their portfolio, which includes their very best work, ask to see a full wedding gallery so you get a real feeling of what you'll get with them.
Marie,
These pictures are ABSOLUTELY breathtaking!  We have only showed a couple of people and they were literally in tears!!!  I just wanted to let you know how wonderful you were to work with – you made our wedding day perfect!  Thank you so much for everything.  If you are ever in this part of the world, let us know and we'd love to show you Baltimore/DC.
Again, thank you so much and I hope we have the opportunity to work with you in the future!!!
Katlyn G.
4. How do they work on a wedding?
This is also a very important question to evaluate their experience level. In addition to knowing how they work, you can ask your photographer how they got a specific shot for example. I personally love to share anecdotes about weddings I've shot, so I'm sure they would be keen to talk about that too.
Also ask them about their post-processing and workflow: what softwares do they use, what adjustments do they do, how long it takes, when and how you'll get the final images etc...
Additionally, some photographers (myself included) will offer to meet again after the initial wedding consultation to talk about your wedding in details or to visit the wedding venue together. All these steps are essential and shouldn't be neglected.
Another important thing to consider if you're planning to get married in a different country (in France for example) or have international guests in attendance: does your photographer speak other languages fluently? You'd think it's not that important, but I've shot quite a good amount of destination weddings and elopements in France with various nationalities and being fluent in English was so comfortable! For me as a photographer so I could listen to what was said and pick up on last minute changes etc... but mostly for the guests who didn't have to make an effort to communicate with me. Plus, I love speaking other languages (and teach some French too)!
5. What's included in their collections and what's not?
Each photographer has their own terms and conditions so make sure to ask about their travel fees. Also ask if you'll be able to share your gallery with your guests, download photos for free and order prints easily, how many photos you'll get as it can vary a lot between photographers. Something else: will you get color photos only or duplicates in black and white also or a mix of both? What time they'll start & end photography on your wedding day, how much are extra hours etc... All of these questions will influence on your final choice.
6. What are their rates and how to book them?
You'll surely have a specific budget alloted to photography, but if you fall in love with a photographer's work and it's a little over your maximum investment, ask yourself if that person isn't worth an extra couple hundreds. These pictures will carry the memory of your wedding for decades... It would be sad to settle for someone you didn't click with as much. Still, you should feel like it is worth such an investment in regards to all of the above.
Read their contract carefully to make sure you are on board with all their terms and conditions. Specifically the cancellation policy, date change and the payment plan.
Madison B.
Oh Marie those are SO beautiful! You really captured the fun, loving spirit of the wedding. I cannot tell you how incredibly happy we are with them. They are so wonderful and magical and exactly the type of pictures that we were looking for. Thank you again for capturing our day so beautifully!
Madison B.
I hope this article helped you in making this important decision. You'd like to know more about how I work? Ask for a free consultation and receive my brochure, get in touch with me here!