Getting married in Paris is the ultimate destination wedding one can think of. If your dream wedding is eloping to the City of Love with your fiancé, you're going to love Madeleine and Brenden's intimate elopement in Paris!
Paris is a popular destination for lovers from all over the World, yet getting married in the French capital requires thoughtful planning. That's why you must hire a wedding planner to make sure everything goes smoothly and you have the perfect vendors by your side on this milestone day, such as Ceremonize who organized all the little details for this elopement.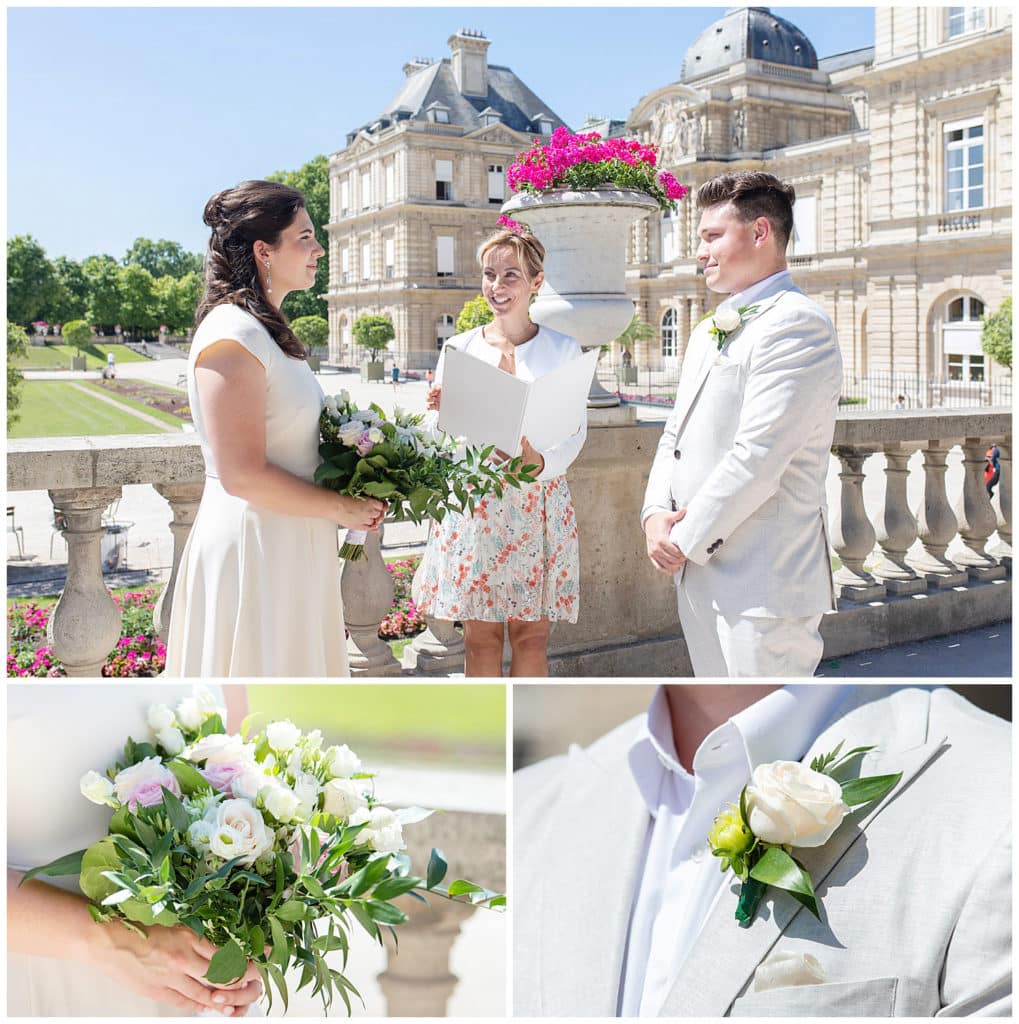 Madeleine and Brenden chose to say "oui" in the enchanting Luxembourg Gardens, by the Luxembourg Palace. They chose the lovely Aude Abadie as their officiant. Aude's perfect English, her kindness and experience performing elopements made the ceremony a touching and special moment. After their vows, the couple exchanged rings and were pronounced husband and wife!
Once the stress of the wedding ceremony was lifted, we strolled around the Luxembourg Gardens to capture some bride and groom portraits in one of Paris's most beautiful park, then drove off in a vintage Citroen Traction car to the Eiffel Tower area.
Our first stop was a location most visitors do not know about, which offers one of the most beautiful vantage points of the Eiffel Tower. Perfect for some relaxed and romantic photos celebrating the newlyweds love.
But when time came to move to a different location, the car wouldn't start again! It was indeed a very hot summer day, and those vintage cars engines are pretty old… no worries though, our driver knew what to do to fix the situation and in no time we were off to Trocadero.
The place was very crowded but that didn't keep us from capturing beautiful photos on the Trocadero steps and by the massive fountains. Madeleine's non-traditional wedding gown choice allowed us to get some modern shots with her flowy dress in front of the iconic Eiffel Tower.
We ended our photo tour of Paris at a typical café, where the newlyweds enjoyed a glass of champagne. We got to chat about their choice of eloping to Paris, just the two of them, for an intimate destination wedding in the City of Love. They were planning a party at home to celebrate their union with their families, but wanted this moment to be fully theirs. After Paris, the two were going to visit Provence, another very charming part of France which I'm of course fond of, given I share my time in between Avignon and Paris.
Elopements are getting more and more popular nowadays, allowing couples to get married in their dream destination at an affordable cost. I had a lovely time capturing those beautiful memories that will be cherished forever and shared with family and friends so that they felt like they had been there with us!
If you're planning to get married in Paris or Provence (on elsewhere in France) and want to know more about my elopement packages, contact me here 🙂