Have you ever dreamed of getting married in Paris, aka the city of Love?
Paris is one of the most romantic places in the World, and what could be more magical than an outdoor ceremony by the Eiffel Tower? Eloping to Paris is easy with the right english speaking vendors (like me and my partnering vendors) and some thoughtful planning (there are wedding planners specialized in elopements and destination weddings!).

I've been a wedding and engagement photographer in Paris and Provence for years, and trust me, you won't regret getting married in Paris. Surely, there's a cost to it, but not having an expensive wedding with hundreds of guests will save you a lot of money that you can invest in your elopement to France. Also, you'll be free from all the stress that goes into wedding planning and able to experience romance in Paris to the fullest: the exceptional food and wine, the historic landmarks, the art and architecture unique to France…
Marie,
These pictures are ABSOLUTELY breathtaking!  We have only showed a couple of people and they were literally in tears!!!  I just wanted to let you know how wonderful you were to work with – you made our wedding day perfect!  Thank you so much for everything.  If you are ever in this part of the world, let us know and we'd love to show you Baltimore/DC.
Again, thank you so much and I hope we have the opportunity to work with you in the future!!!
Katlyn G.
Your perfect elopement in Paris
Imagine: having croissants and café au lait in one of the thousands of cafés in Paris while people watching, then cruising the Seine river to enjoy the sights of Notre Dame Cathedral, the Eiffel Tower and the Louvre Museum, having croque monsieur for lunch at a bistrot, discovering talented artists in Montmartre, shopping on the Champs Elysées, stopping for some delicious macaroons at LaDurée, watching the sunset from the top of the Montparnasse Tower, and having dinner at the Moulin Rouge cabaret... need I say more?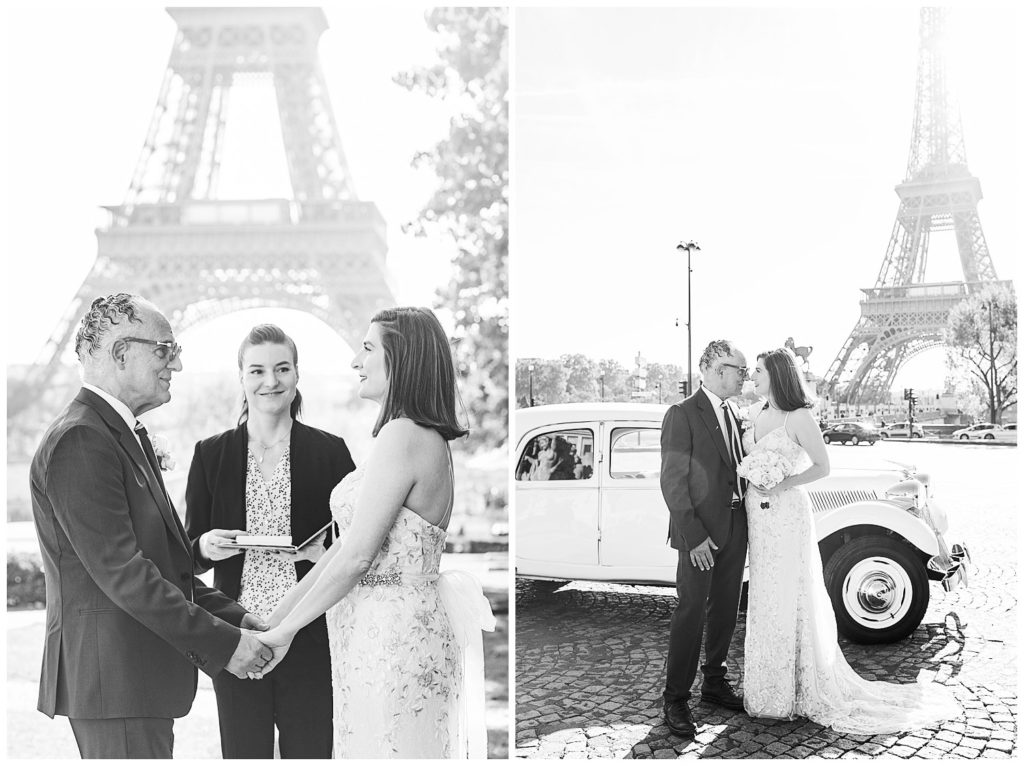 A team of vendors to make your elopement in Paris magical
Your Paris elopement can be taylored to your desires thanks to the amazing wedding planner I'm working with, Ceremonize. A hair and makeup artist to help you become a real life princess, a beautiful bouquet of fresh flowers delivered to your hotel room, a vintage car to drive you to the ceremony location of your choice, which will be performed by a talented officiant, maybe have some musician accompany you as well... then we'll take some portraits during a personalized Paris photo tour to make sure the memories of your special day are captured forever. For your loved ones who couldn't attend, it'll feel as if they were there!
You could choose to have your elopement by the Eiffel Tower, in a park, in a religious building (such as the American Church in Paris), or even inside your hotel in Paris.
Angela S.
Thank you so much!! We are so happy with our pictures, whenever we hear one of our friends or coworkers are going to Paris we always recommend you!! Thanks so much for capturing our one in a lifetime day!
Angela S.
Your romantic elopement in Provence

Are you looking for more of a nature setting? Since I'm also based in the South of France, I also photograph elopements in Provence... Are you dreaming of the cicadas song, the lavender scent and the warm sun on your skins during your vows exchange? Well, Provence is the place where you should get married then.
Many options in Provence as well: the endless lavender fields in Valensole or Sault, the magnificent olive trees and Alpilles mountain range, the gorgeous provençal villages in Luberon, the vines in Châteauneuf-du-Pape, the wild beaches in Camargue, old chapels and castles... you name it!
Even if you're already married, you can experience the magic of a France elopement to celebrate a wedding anniversary or to renew your vows for example. It will be my pleasure to be the witness and creator of the souvenir of your celebration of love à la française. Tell me more about your elopement in Paris or Provence project here.
Liva N.
Good evening Marie!
Last days I have been sending the link and photos all around the world – photographies been seen in Australia, Canada, Algerie, Latvia, of course, France; I am so excited about the work you did! They are excellent!!!
It was a pleasure to be together with you in our wedding day and for sure I will recommend you for our friends and people we know.
We wish you a bright and succesful career and future,
everything the best for you Marie
in career, health, love and life
Liva N.